You are here
Darla was Adopted!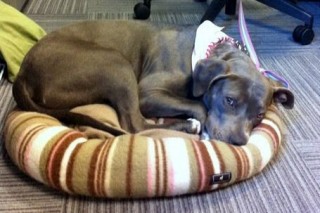 We found this little darling at the Baldwin Park Shelter, pancaked at the back of her cell, looking so sad and defeated she just broke our hearts in two. Because we were there volunteering, we decided to just spend some time with her and let her know that all humans aren't bad. After a little while, she slowly lifted her head and started to open up… soon, we took her out for playtime and it wasn't til we got out into the exercise area that she truly perked up!
We had some other little dogs out and she was adorable with them, and within minutes, cuddling up into a ball in our laps. It was pretty hard not to fall in love right then and there. She came home with one of us, where she began her foster experience in which time she was easily crate trained and almost immediately leash trained. Little Darla was so polite and eager to please, she made it hard to for us not to want to keep her :-)
Then one day we got the call that there was a last minute spot opening on Good Day L.A.'s Adopt-a-Pet Segment! Darla's foster mom got up early and drove her down and she was an absolutely STAR on the news! The phone lines lit up for her and she received more than 5 applications. However, there was one that stood out from all the rest. It was a fantastic family in Manhattan Beach, a mom and dad and their fabulous 3 children. They had had rescued greyhounds their whole lives who had since passed away, and they were looking to adopt a dog. One of their friends had a pit bull, and they had fallen for the breed- most especially how great their friend's dog was with their children. We knew Darla would be a great fit because she was not only gentle but incredibly respectful and aware of herself. We brought her down for a meet and greet and the love connection was instant. Darla had found her family, and they had found their beloved family dog.