You are here
Run For Pits
REGISTRATION OPENS SUMMER 2018!
Join Angel City Pit Bulls and TEAM ACPB in the 
2019 SKECHERS PERFORMANCE LOS ANGELES MARATHON, CHARITY CHALLENGE (HALF) and LA BIG5K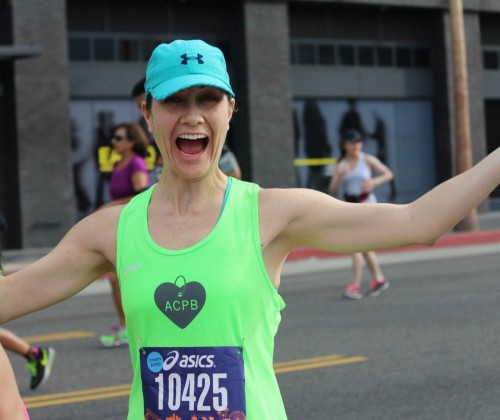 Be a HERO!
On Saturday and Sunday, March 23 and 24, 2019, Team ACPB runners and walkers will hit the pavement to raise funds to save pit bull dogs in need. By joining Team ACPB and asking friends and family to support your effort, your sweat and determination will help raise funds to assist hundreds of shelter dogs find families of their own. 
Race Options:
LA BIG5K (March 23):  3.2 miles. This fun course winds through Elysian Park and finishes at Dodger Stadium. This is a great option for runners, walkers, and families. 
LA MARATHON Stadium vs. Sea Challenge (March 24):  

Charity athletes will have the option to run from Dodger Stadium to Hollywood (Stadium) or from Hollywood to Santa Monica (Sea). The Stadium segment is 12.9 miles, and the Sea segment is 13.3 miles. This option will sell out, so sign up early! 
LA MARATHON (March 24):  26.2 miles. The LA Marathon starts at Dodger Stadium and ends in Santa Monica soverlooking the Pacific ocean. This scenic course takes runners past iconic LA landmarks as they make their way to the finish. It's a great course for both first-timers and experienced runners. 
Benefits of Joining Team ACPB
:
•   Endurance training from certified coaches
•   Organized group training runs
•   Official Team ACPB race shirt
•   Private shuttle to the start on Marathon Race Day 
•   Access to the VIP suite at Dodger Stadium on Marathon Race Day 
•   Access to Team ACPB events, including a catered post-race celebration
•   A personal online fundraising page and guidance from Team ACPB staff
•   Fundraising incentives and prizes
Join Team ACPB and make a difference for pit bull dogs. 
Be their Voice.  Be their Hero.
If you are interested in joining Team ACPB and participating in this incredible opportunity, or if you would like more information, please complete the contact form below.  We will respond as soon as possible with all of the information you need to register with Team ACPB.
*Please do not register for the LA Marathon or Big 5K until you have received a specific team registration link *
Do you need to get a hold of us for other marathon related reasons?  Email LAMARATHON@angelcitypits.org