You are here
Our Favorite Cool Down Recipes
Thursday, August 4, 2016 - 12:39pm
Summer is in full effect, and in true California fashion, it sure is a hot one! When the temperatures are on the rise, we like to get creative by giving our foster dogs frozen treats as special snacks.
Frozen treats aren't just good for cooling down your hot dog—they also provide mental stimulation, which is just as important as physical exercise when it comes to keeping your dog happy and balanced (oh, and tired).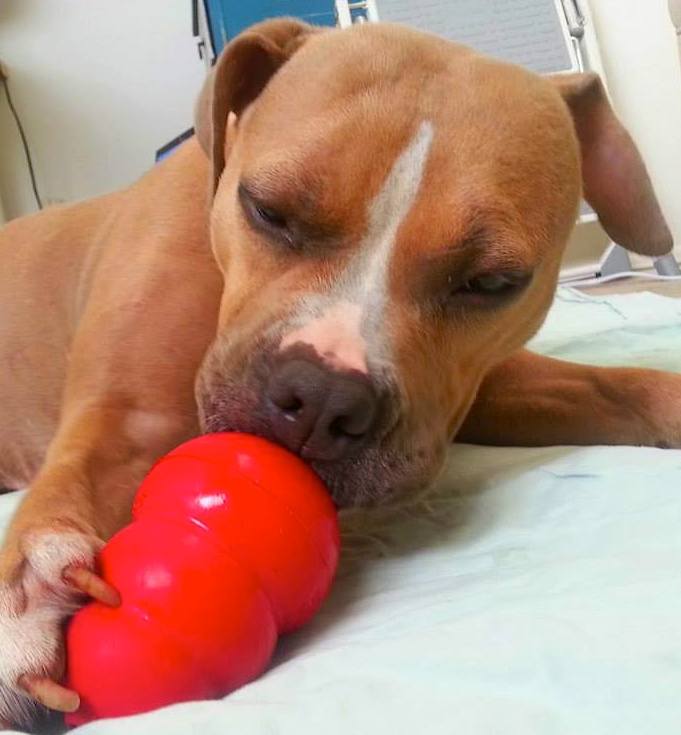 Here are a few of our favorite recipes:

Frozen Kongs
Frozen Kongs are great any time of year, and you can stuff them with whatever you have around the house. A few of our favorite fillings are:
-Peanut butter
-Cottage cheese
-Plain greek yogurt (froyo Kong anyone?)
-Canned pumpkin
You can mix other treats, kibble, fruits or veggies into the Kong to add extra good flavors to keep your dog interested. Just stick the stuffed Kong in the freezer for a few hours and you'll have a snack that will keep your dog busy for quite a while. We make frozen kongs for our fosters year-round.
Pupsicles
ACPB alumnus Hanna can personally recommend our next recipe, which she taste-tested at a summer adoption event.
Ingredients:
1/3 cup no sodium beef or chicken stock
1/3 cup water
1/3 cup cut up fruit (blueberries, bananas, and apples work well) and small dog treats
Instructions:
Fill a ½ cup Tupperware with beef or chicken stock, water, fruit and treats. Freeze until solid and then pop it out of the container and let your dog enjoy! You can make the treat fit into whatever size container you have on hand.
Blender Kongs
To really up the ante on a delicious frozen Kong, break out your blender. Here's a recipe from one of our foster parents:
Blend peanut butter, bananas and plain yogurt or cottage cheese in a blender until creamy. Press a piece of kibble into the small hole of the Kong to plug it. Pour the mixture into a Kong and push a dog biscuit into center. Freeze.
You can make variations with chicken or tuna, and cottage cheese - just about anything. Using a blender makes it very easy to fill the Kongs. Just be sure to press something solid (like dog biscuits) into the Kong to make them more interesting and last even longer.
You can make many more frozen treats just by using an ice cube tray, muffin tin or small bowl or Tupperware, and filling them with your dog's favorite things. There's really no wrong way to make a frozen treat! Just make sure that the ingredients you include are healthy and safe for your dog.
Do you have a favorite frozen treat recipe? Let us know in the comments section!