You are here
Mr. Bo Jingles
Wednesday, July 25, 2012 - 10:05am
In December of 2010, I had just lost my Andy, "Dude" ... he was 14-1/2 yrs old.  He was diagnosed with liver cancer and passed away, all within the same a month.  He was the most gentle soul I have ever known.  I also have a female 12-1/2 yr old pit bull, Mandy.  I was not looking to get another dog ... not at the time, anyway ...
I "met" Mr. Bo Jingles on Angel City Pit Bulls' Facebook page in January, 2011.  I read about his story, saw that face ... and, that was it.  Next thing I knew, I was asking how I could find out about adoption - and in particular, how to adopt Bo.  I knew I could give him the kind of home and love that he deserved.   I LOVED his face. 
Angel City Pit Bulls contacted me, I filled out the application, and then came to meet him at an adoption event on Jan. 16.  He was sooo cute and head strong.  I just knew I had to have him.  I was a little concerned about my other dog, Mandy; how would she feel about a new dog so soon?  But, my Mandy is a trooper.  With a slow and patient introduction, under the guidance of Angel City Pit Bulls, I knew we could make it work.    
Angel City Pit Bulls brought Bo to our house in February; he was my Valentine present.  We all went on a walk ... and in a short amount of time, he and Mandy were getting along just fine.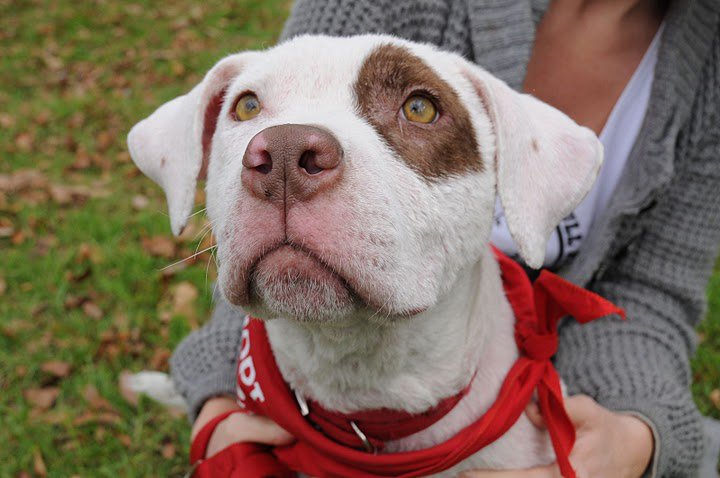 I took every aspect of introducing Bo to our house, Mandy and the two cats very slow.  And yes, I did say two cats.  Now he sleeps on my bed with Mandy.  And at times even with the cats!  He used to chase the cats; now, he is totally respectful of them. 
Mandy was scheduled for a minor surgical procedure, to correct a hematoma problem on her ear.  She had her surgery, and afterwards, had to be crated.   Bo would lay down by her crate, it was so cute. 
Bo now weighs a whopping 70 lbs. a perfect weight for him. We just started our 2nd agility training, at which he is already quite good.  I plan on keeping him in classes.  He seems to really enjoy it - and, we have friends human and doggie that take classes with us.
Bo is a hit everywhere we go. He is very good with other dogs. Bo is my boy! People stop me when we are walking all the time. They always comment that "he looks like the dog from Spanky and Our Gang".
I always smile and say, "yes, he does".

Toni
Bo's Adoptive Momma