You are here
Ilene Finds Her Forever Home
Monday, March 12, 2012 - 6:38am
My love for pit bulls began several years ago; back then, I decided that one day I would adopt a pit bull - as soon as a house with a yard came along!  Timing is everything, and even though the time hadn't come just yet, I knew that at some point, it would ...
Fast forward to several years later; Steven and I, living in a wonderful home with an enclosed yard … it was time! Only one glitch - my pug named Ophy was now elderly, Steven's kitty named Yeti was also elderly, and we were unsure of what would happen to our older pets if we were to bring a dog home. As luck would have it, Steven's sister, Stacy - a dog walker in San Francisco - was fostering the sweetest male pit bull puppy at the time; she'd had him since he was about six weeks old. I spoke with Stacy about my plan of adopting a pit bull, something I had wanted to do for a long time - and that the time had finally come.  She said the magic words - "adopt Boomer!"
Words do not exist that adequately convey the joy and love Boomer has brought to us. While I was not an aficionado before - now, I totally get it. Boomer has been our love for over three years now, and not one day goes by where Steven and I don't shower him with "do you know how much we love you?" In the time since Boomer became part of our family, his elderly pals have crossed over The Rainbow Bridge. All of a sudden, one day we found ourselves in a home that was just too quiet. We decided it was time to find Boomer a companion.
Several months ago, I contacted Angel City Pit Bulls to inquire about adopting. We knew we wanted to adopt soon, but again, it was about timing. There were weddings to leave town for, a landscaping project to finish, and so forth. So, we explained, we were waiting for "the perfect time"…
In January of 2012, Angel City Pit Bulls pulled two dogs from a local shelter - LouAnne and Ilene. The pair were placed into boarding temporarily at a nearby veterinary office while they recovered from kennel cough, and the call was put out for volunteers to help with visits and daily walks. Seems our "perfect time" was now upon us; I jumped at the chance to get to know them! A few days later, I had Steven come to the veterinary office and walk them with me. I casually mentioned that Angel City Pit Bulls needed foster homes, and asked if we could give it a try; it would give us an opportunity to see what Boomer thought, too, right? Steven and I agreed - after all, it wasn't only our decision, but Boomer had a say in it as well. We were able to take in one of the two dogs; Steven felt that Ilene, the younger of the two, was the better match. The decision was made; soon after that, when she had recovered from her illness, Ilene was in our home!
Ilene came to us with one of the biggest personalities I've been lucky enough to experience! Her first morning started with a fun ride to Starbucks with Steven. Boomer and I stayed in bed awaiting our delivery - only to be awoken by coffee and chaos. Ilene, by the way, doesn't merely jump on the bed when she joins us - she is more like a Tasmanian Devil all wrapped up in that tiny little forty pounds of her! I have to admit, one of the best parts of this little gremlin are the sounds that she makes. Especially when she has a toy in her mouth - which is often; I swear she sounds like a dinosaur! She makes a long, drawn out, deep sound that will echo through several rooms - it is hysterical!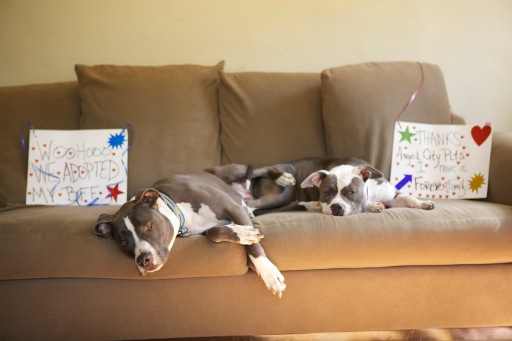 Little Ilene is a huge pleaser; she is such a love, I can't even begin to explain. The love she has for humans and her fellow canines is remarkable. She truly possesses a sweet, sweet soul. The relationship between Boomer and Ilene is something out of a fairytale. We did a slow introduction; on the first day that they really had time to be together, it was like a match made in Heaven. Playing, running, sharing toys, and oh my ... lots of snuggling! I'm positive it doesn't get much better or more perfect than this.
When Ilene started sleeping curled up next to Boomer, the deal was sealed, and the adoption made official. Steven and I cannot imagine life without this little girl, and we are sure that Boomer feels the same!
- Danielle, Steven, Boomer, and Ilene (now named Monkey)