You are here
Foster Friday: Reflections on Crate-Training
Friday, February 3, 2012 - 2:15pm
Foster Fridays: Reflections on Crate-Training
Hi Everyone. It's me, Stephanie again, you know, the one who said all the blogs wouldn't be coming from me on this site :) Don't worry, we have a bunch more slated to arrive- starting this weekend- from some new voices, including Jenny, our resident Volunteer Coordinator, fellow Media Maven, and huge Football Fan.  Get excited!!!
Anyway, today's post is centered on Fostering, since here at ACPB we have a tradition known as Foster Friday in which we dedicate the day to spreading the word about fostering! We feature adoptable dogs we currently have in foster homes on FB and Twitter, share articles about the benefits and how-to's of fostering, and give thanks to the wonderful people who have opened up their hearts and homes to pit bulls in need. Here in Southern California, the homeless pet population is astounding and the forecast for pit bull type dogs making it out of the shelter alive is dismal at best, often cloudy with a chance of thunderstorms, to put it lightly… So, fostering, in our eyes is a break in the bad weather. The clouds part, and a ray of sunshine comes blazing through, reminding us what we're working towards…  a bright happy sunny future where pit bull type dogs are nurtured and cared for in responsible, loving homes, as a part of the family, 'til the very end. We count on foster homes to help us transition the beautiful dogs we find in our local shelters as they leave one life behind for another… and without these foster homes, we simply couldn't do a single thing that we do. We owe them EVERYTHING, and then some :)
When someone fosters with ACPB, typically one of our board members brings the new dog home with them first for a 2 week "Decompression Period" before they move to their new home. During that time, the dogs literally just sleep and decompress from the stressful period of shelter life, and recover from any possible injuries or illnesses they may have. We line their crates with cozy blankets and delightful treats and toys and bones to gnaw on, and we often play classical music or Enya to set a tone of rest and relaxation. The dogs are taught to self-soothe, and their crate becomes a place of safety and security. They are fed in their crates and receive love and playtime and freedom in an increasing fashion as the days go on… since overloading them right off the bat can often set them up for separation anxiety and bad behavior, and we want to set them up for success, both in their Foster Homes as they continue to learn and grow, and of course, in their future Adoptive Homes where they will have to adjust once more and learn a new pattern and routine of that household.  Often, people will take a dog home from the shelter, who may not have had anything good in life until that point, and spoil them immediately with so much love and affection that, understandably so, the minute that person leaves the room or house (which eventually you have to do!) the dog panics, thinking if you leave, so does everything good in my entire life. This panic can result in excessive chewing, destruction, or going potty anywhere and everywhere. No fun for the human or the dog!
So, we truly believe crate training and a proper decompression is paramount to setting the dogs up for success. Of course, there are some cases where dogs have trouble with crates- and for those exceptions we come up with something better that works for them. That said, about 90% of the time, the dogs take really well to crate training. It also helps for when the dogs move to a new home because they have a familiar "apartment" that is theirs, no matter what new surrounding they are in. Plus, the crate helps tremendously when doing slow introductions to other resident animals in the home. At the end of this blog post, I'll share some great links from sister sites that go into these concepts much more deeply. However, right now… I wanted to share some personal stories, which are a lot more about our own training as foster parents, then how to train a foster dog :)
*    *    *
Now- to be perfectly honest- when we first started fostering a few years ago, my husband and I had NO IDEA about crate training (!!!) and our own two dogs, Bruce & Stan, had never seen the likes of a crate before. We were actually forced to buy a crate with our first foster puppy, the unforgettable Rosie the Rosebud (trust us, there will be a blog dedicated completely to her one day down the line!) because she had just had major surgery on her leg, and we had to keep her confined and on bed rest for almost 6 weeks. So we learned about crate training almost by accident, and before long realized it was, quite simply, AWESOME. We had both been under the impression that it was "mean" to keep them "locked up in a cage" while we weren't home… and wanted them to roam free, and it was up to us to teach them to be well-behaved in the home so they could do that. As a result of this thinking, we endured years of puppy stuff like chewed up shoes, and pillows (ok, an entire down couch that was really expensive that Stanley literally ate and it took us months, MONTHS, before we stopped finding feathers!) and more fun stuff like that- and we always blamed ourselves, and yes, got into little spats about it. When we finally learned about how positive crate training actually was, we looked back on those times and just shook our heads. Man, wouldn't it have been great if we had just crate trained our dogs from the beginning?  Of course, we didn't think we could do it now… they were 5 and 7 years old… no longer puppies!  Anyway, that was what we thought then. But I digress...
After our first foster puppy was adopted by an amazing couple… they left her crate at our house, with a note inside saying "Please fill this with another puppy in need from the shelter" along with a check to help us cover some of the expenses- AKA- we have them to blame for a huge part of how our whole addiction to fostering started :). We said we wanted to give our own dogs at least a month of alone time before we brought home another puppy to take up all the attention… and that lasted about, um, a week (!?) before little Roxy was in our house. I remember originally naming her "Tigerlily" because she was this gorgeous tiger striped brindle. But on habit we kept calling her "Rosie", having just had Rosebud in our home for so long, so we soon just renamed her something similar and easy. Anyway, Roxy turned into Lola, Lola turned into Darla, Darla turned into Daisy, Daisy turned into Waldo, and soon we added another crate to our household and we had the Christmas Combo of Mr. Bo Jingles and Holly Pockets, which then became Cooper & Shelby, and then Shelby & William, and then William & Kyra, and then… William & Pippa…  (Silly Willy was with us a long time!) And, well, the list, just kept growing and growing- so forth and so on.  We branched into adult dogs, and started learning more about our own dogs and what they could best tolerate in our home.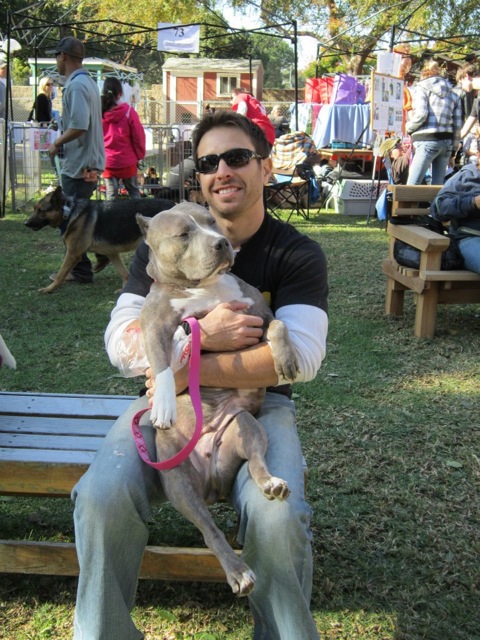 Anyway, I should probably mention that what I just described above led in part to the birth of Angel City Pit Bulls (ACPB.) ACPB was originally founded by Katie Larkin & Brian Jett, longtime volunteers at South LA City Shelter. Much like what AJ and I were experiencing as Baldwin Park County Shelter volunteers, Katie & Brian were as well. They too were seeing far too many beautiful pit bull type dogs being euthanized due to space- and felt the only true way to combat the feelings of depression, was to just take one (or two!) dogs home at a time, and at least focus on the ones we could save. We soon partnered up and combined our efforts, and became our very own little pit bull rescue operation.  It took a few months but soon our 501(c)3 status was approved, and we started adding foster homes to our group outside of our own, and began enrolling our foster dogs in group class and hosting various adoption events. We started a Facebook page and gave out flyers- and, well, our group has been growing exponentially ever since! Of course, as a result, we have ENDLESS stories about dogs and foster successes (and "failures"- which take on 2 very different meanings, btw-  from foster homes that did NOT work out, and of course, ones that did only too well- heehee- resulting in adoptions!) However, right now I want to get back to the subject of crate training, which I am realizing is the through-line to this post. Ahem.
So- somewhere along the line in our personal experience as a foster family, our own dear dog and love of our lives, Brucely, became sick with a mysterious illness that had us all worried sick for months and left many doctors stumped. After a lot of ups and downs, and money- oh so much money- he was finally diagnosed with a rare form of Lupus, which accounted for the many terrible symptoms that at first seemed unrelated but finally we understood were different ways his immune system was attacking itself. We have since learned that while the illness cannot be cured, it can go into remission. And we're happy to report he is at his current most healthy and happy we have seen him since he first got sick. (YAY!!!!) Now- the reason I share this is that as a result of his illness and treatment, Brucely became a very different dog, especially when it was really bad. He was in pain, on a lot of crazy meds, and he certainly did not want to play with his younger brother and constant playmate of many years, Stan. Stanley started getting restless, and acting out, and it was all in all a very challenging time in our household. Bruce's meds would make him eat things, go to the bathroom in the house - behaviors we hadn't seen in years. We started wishing out loud once again that we had crate trained our dogs from the beginning. It would have made everything SO MUCH EASIER! And that's when Katie suggested we just try it out. And we looked at each other in shock- Duh!?  I mean… if we could train any dog out of the shelter to love and embrace their crate- why couldn't we do it with our own dogs?
At that point, our dogs had seen crates in our home for a couple years now with all the foster dogs coming in and out- so we just started leaving them open in a room with them, and filling them with amazing treats. Now, prior to this moment, we had never allowed exciting toys or bones in our home because those were always a trigger in our house. Stanley, I should tell you, came to us via New Orleans, post Hurricane Katrina. I had brought him home after volunteering there – just a bag of bones with a huge head (another story for another time!) I had actually thought he was a mellow dog- HA HA HA (said totally dead pan.) We soon learned he was only mellow because he was dying. (I know.) Anyway, as Stan became stronger and older, we would come to know him as the smartest, most manipulative, challenging, loveable little Velociraptor you have ever encountered. Yes, he opens doors. With his hands. And oh so much more... All that said, the relevance to this story is that he was 100% in LURVE with his big brother Brucie- except when it came to toys and food and bones. So we cut them out entirely, and any issues they had melted away- and they loved each other in the most insanely wonderful ways- becoming quite famous amongst our friends and family as we took hilarious pictures of them together and made some pretty fantastic videos too (all to be shared in due time, don't you worry!!)
That all said- our pattern of avoiding toys and treats also served us doubly well for the day when we introduced CRATES! Our poor dogs hadn't seen a rainfall of goodies like that in YEARS!!! I mean, yes we used to give them bones, but we'd always separate them in different rooms. Now they had their own little apartments where they could enjoy a frozen peanut-butter filled Kong for hours and no one would threaten to take it from them. It was HEAVEN for Stanley and he basically fell in love with his crate on their first date. We were shocked, delighted, and almost felt guilty about not having given him "his own room" until he was over 6 years old. To this day, when you say to Stan "Go to your crate!" he runs with such breakneck speed from wherever he is in the house into that thing, we're afraid he is going to hurt himself. This coming from a dog that it took years to teach the command "COME!"
Anyway, Bruce is not a huge fan of the crate, but we let him roam free and Stanley happily goes into his crate whenever it's time for a treat, or we have new guests over (Stan loves really "hard" so we try to keep him sequestered, unless it's people who get it and don't mind...)  We often place our foster dogs in a crate near to Stan so they can see what a happy crate trained dog looks like. It's been a lifesaver for us, and it's allowed us to have so many awesomely adoptable dogs come through our home on their way to finding their fur-ever families. On that note- fostering has been quite wonderful for Stanley as well. In the last couple years that we've dealt with Brucie's illness, having a foser dog for Stanley to play with has been surpringly helpful. Important to note is the fact that Stanley has been kicked out of every known cage free doggie day care there is in the Los Angeles area. His incredibly leash reactive- although it's selective (he hates furry dogs- Malamutes are the worst kind.) But all that said- when we do a long, slow, patient intro with a dog who is super mellow (and not too fuzzy) or playfully submissive, he almost always falls head over heels in love, and as a result- those two play and everyone lets Bruce sunbathe and write his novels. Now listen-  our dogs still love each other very much, it's just now Stan goes out and exhausts himself playing with Foster Dog Du Jour, and then he comes in and cuddles up to Brucie who is usually quite tired, especially if he's been napping all day :) So it truly works itself out for all parties involved. And you know, saves lives and stuff.
Anyway, as I am sure you can tell... I could go on and on about how wonderful I think being a foster parent is- and more specifically, about the amazingness of crate-training, however this post is already long enough. So, I promise more stories soon, possibly longer- most likely shorter :) and from plenty more voices-  not just from our other foster fams, but from some of the dogs as well (I know- get excited!!)
I want to close though by saying a HUGE thank you to everyone and anyone who has opened their hearts and homes to a foster dog, which truly does save lives, especially in cities like ours where the shelters are so overwhelmed and have to euthanize animals all the time due to space. Which will never sit right in our hearts, it just isn't a good reason that a dog should have to die.
So, if you are considering fostering a dog, wherever you are, please know there are some great articles on Bad Rap's site that have helped us tremendously. ACPB follows a lot of their advice and we highly recommend checking out their Dog Bible :)
We also wanted to suggest checking out the Fabulous Blog Love and a 6 Ft Leash, which talks about fostering with such love and light. And of course, remind you that there are –um- tax breaks for fostering, too!? So keep that in mind. And if you are in Los Angeles, please consider fostering with ACPB. We offer so much support and will basically shower you with love and gratitude for the rest of your life. Though honestly- your foster dog will do it better than we ever could- every time they look at you, whether gazing lovingly at you at home, or down the line in happy photos from their fur-ever home- which yes, we MAKE all our Adoptive Families share with us!
Anyway, thank you again for reading and for supporting our mission. Enjoy your Friday, and thank you to all the Fosters out there!!!
Xo xo xo,
-Stephanie