You are here
Foster Friday: Little Miss Addy
Friday, April 27, 2012 - 9:16am
Hey everyone and happy Friday! Mikey here: your Adoptions Coordinator at Angel City Pit Bulls. As a lot of you are aware, we are a completely volunteer-based organization - from the directors of our group, down to the people who come to help out at adoption events. Everyone wears many hats. So along with working adoptions, I am also a proud foster.
When you go into the shelters you see all different kinds of pups, from the wise old gal all the way down to the shy little boys. Every once in a while, though, one will jump out at you. That is what happened with my newest foster, little Miss Adeline. Addy is a petite, 28 pound gal with a beautiful brindle coat and a HUGE personality. Like any other pup, Addy LOVES to play. Currently her favorite obsession is her ball and rope toy. Every morning we go outside and I sit on the steps and watch her zoom back and forth across the yard with it. And when I say she likes it, I mean she LOVES it. She gets so into playing that she has been known to bump headlong into the fence, stop, look up as to say "oops" and go right back to playing.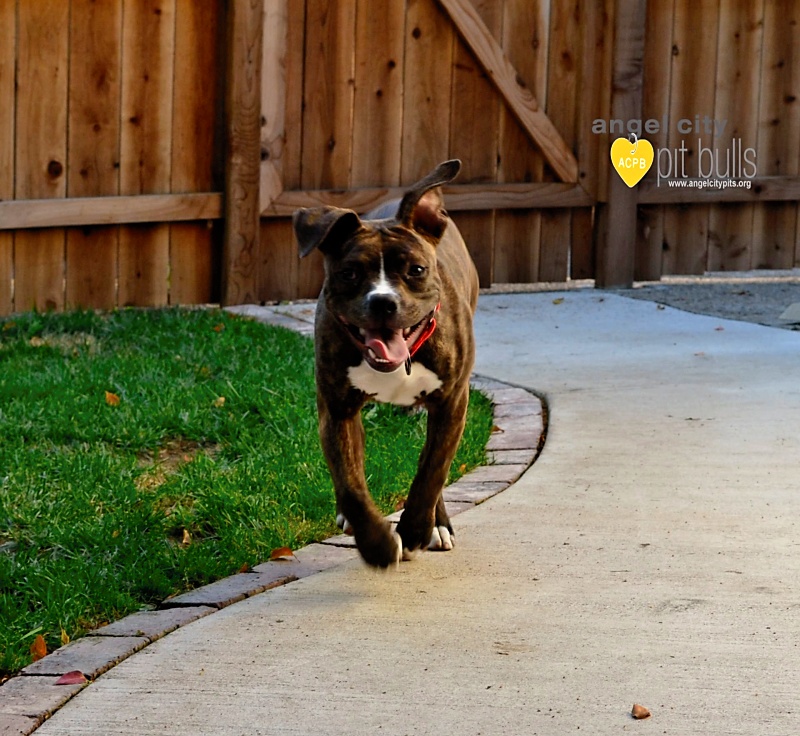 Addy loves to cuddle in awkward places as well. While she has a very comfortable bed, since her first day at our house Addy has grown attached to two random places. Her favorite hangout spot is in and old piece of luggage. I personally think she just wants to be ready at all times for a spontaneous weekend getaway. Also, I think she believes the TOP of her crate is just as comfortable as the inside. She likes to lie on top and soak in some rays from the window. Living in the lap of luxury she is!
Addy is quite the smart little girl. She has quickly learned the difference between playtime, calm time, and when it is time to curl up on your leg and nap. In her first week she was quickly housebroken and learned all of her basic commands - sit, lay, stay - and an extra special one we call… Baby Bear. For that one you might just have to meet her in person though.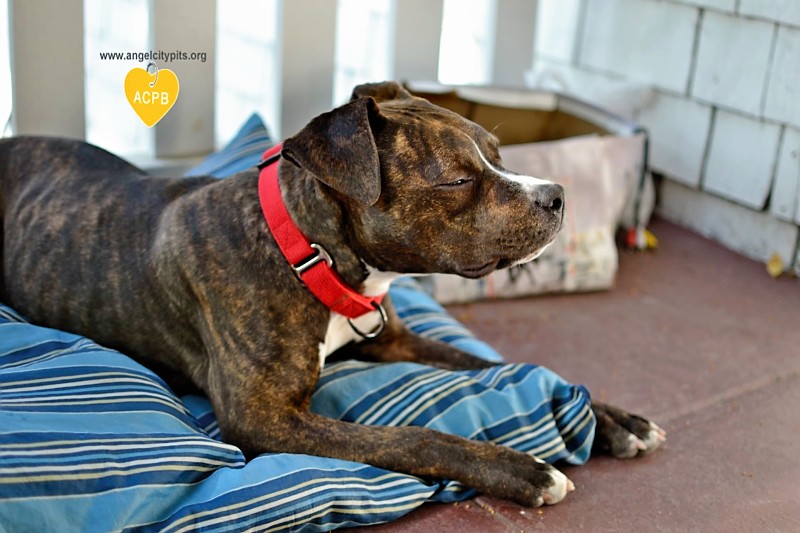 Addy is learning her manners around other dogs as well. Parker, our moody brooding pit bull mix has little patience for anything in life, but is already starting to bond with Ms. Addy. And while Parker barks away at people in the neighborhood, Addy just sits right next to me looking at me as if to say, "really?" She has become quite the little lady.
Her leash skills are impeccable! She hardly pulls and always checks in. On our walks, Addy has become the belle of the ball throughout the neighborhood. She has developed quite a following of human friends and is ALWAYS game to say hello. Even when the random neighborhood dog rushes to its fence, excited to serenade her as she walks by, Addy calmly prances by, politely nodding to acknowledge his admiration.
From talking to friends I had heard lots of fun comments such as, "oh you are fostering a puppy? Isn't that a hand full"? But all in all I have to say, I think I have lucked out. Maybe others just haven't been lucky enough to come across a little dog like Addy!
Mikey
Angel City Pit Bulls
Best Friend Facilitator
Come meet Addy at the Best Friends Super Adoption this weekend!