You are here
Foster Friday: Fostering 101
Friday, March 30, 2012 - 9:37am
I take my dogs to the dog park almost every day; almost inevitably, I end up in a conversation about what I do for a living. I own a dog walking and pet sitting business, which also leads to what I do on the side - volunteering and fostering for dog rescue groups. From there, the conversation usually goes like this: 
Dog lover: "Wow, that's great, I wish I could do that." 
Me: "Why can't you?"
Dog lover: "I'd like to volunteer, but I don't know if I have time - and I'm afraid to go into the shelter."
Me: "Have you considered fostering?"

And to this suggestion, I am often met with the following resistance - "oh, I don't know, what if I fall in love and then have to give the dog up? I don't think I could handle that. I think I would just end up keeping them all." 
Once you get involved with a rescue group, you will soon appreciate the importance of fostering to the lifesaving work that they do; and chances are, you would not end up "keeping them all". And, if you do end up with one or two really great dogs along the way, is that really such a terrible risk? In my opinion, the rewards of fostering far outweigh the small risk of temporarily having a heavy heart.
Below are my Top 5 reasons to foster:
Reason #1: Save Not Just One Life, But TWO

Fostering is a great way to help save a life without having to ever set foot into a shelter. In fact, it allows two lives to be saved - the life of the dog the organization pulls from the shelter and eventually places with you, as well as the one of the dog who will then be placed by the same organization because of the space that has just been made.
 
Reasons #2 and #3: Witness Love At First Sight, and Make New Friends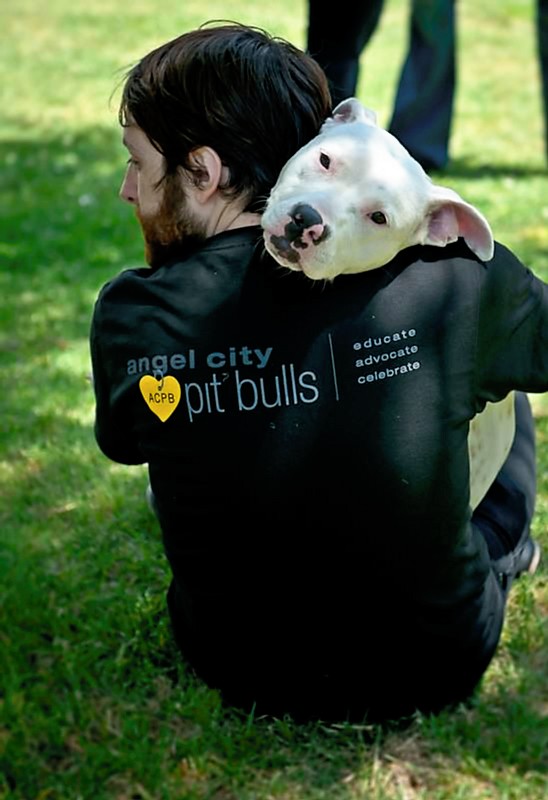 I rescued a dog off the streets a few years ago. I named him Henry, and had hoped to find another place for him to stay because I needed to keep my home open for another client most of the time. However, I ended up fostering him part-time and boarding him when I had no space in my home.
Henry was with us for about 3 months, and for some reason had very few applications during that time. He was very well behaved, great with my dogs, and a fabulous running partner. I was falling in love with him - but I knew I just could not have three dogs. Fortunately, right when I thought we'd never find Henry a home of his own, I received the most amazing phone call from a woman who had seen Henry's flier. She had tragically lost a dog who had a similar look to Henry's about six month prior, and wasn't quite sure if she was ready yet, but wanted to meet him. I had a good feeling.
I drove Henry over a day later, and it was truly love at first sight. Her eyes just lit up when we walked up to her door. Henry was having a blast investigating her yard and bouncing in the ivy, and then she and her husband offered him a toy, which he promptly tore to pieces, leaving fuzz all over their floor. They just grinned from ear to ear the whole time he was shredding the toy. Three days later, Henry went back for his trial. Two weeks later, his adoption was official!
I've kept in touch with the couple and pet-sit Henry on occasion, and they have even watched our boys at their place. We meet up at the park to watch our "kids" play, we have dinner together ... they have become wonderful friends of ours.
 
Reason #4: Learn New Skills, and Watch Your Foster Dog Learn, Too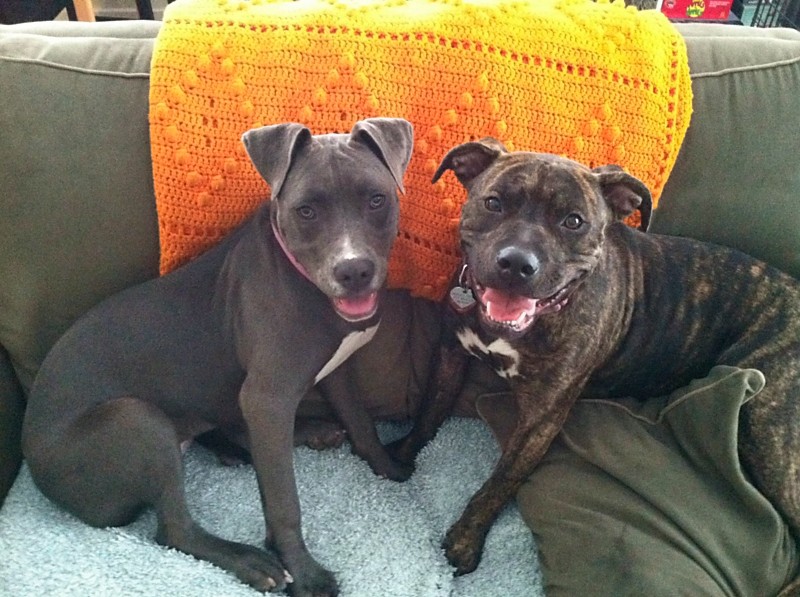 We took a little break after Henry, but about a year later I offered to help with a little Cocker Spaniel mix named Moe who had been kicked out of several other foster homes. I knew Moe from adoption events, and while most people would say he was not my "type", it broke my heart to see him getting bounced around and losing his chance at a good home. I worked with a trainer and I spent a ton of time on his basic obedience. During his final week with me, we were able to go to the Best Friends Super Adoption, and to my surprise, they decided to welcome him into their sanctuary. I've continued to apply the many skills I learned while fostering Moe.
 
Reason #5: Sometimes You Do Find Your True Love

Roo was supposed to be a short term foster. She was a puppy, so I thought she would find a home quickly. She was meant to be a test - a chance for us to see how we would deal with a puppy, and how our ten year old pit bull Duval would deal as well. Roo ended up having a lot of anxiety issues; I worked with trainers, building on my proper dog handling and positive reinforcement skills. I soon lost the urgency to find her a new home, yet still ignored everyone around me telling me that she was my dog. She had one chance at a permanent home, and it didn't go well (they had cats) and I have to admit that the ONE night she was away, I missed her terribly. Roo officially became our dog on Jan 1, 2011.
As I write this blog, I am wondering what new and amazing experiences I'll have with my next foster pup. I'm in the process of scheduling a meet and greet with my dogs and I'm excited about what lies ahead. There are lots of wonderful dogs out there that need us fosters. Open your heart and home today - it is something you will never regret.
 
Peggy
Devoted Volunteer
General Manager & Owner of Fetch Pet Care, Hollywood Hills