You are here
Foster Friday: Everybody Loves Rosie
Friday, June 15, 2012 - 9:54am
Before adopting my first dog a couple of years ago, I used to be very afraid of wagging tails, from tiny Chihuahuas to larger breeds. Even after adopting Max, a Pomeranian mix, "bully breeds" continued to frighten me. That was until Rosie, a 6-month old female, pink nosed pit bull, interrupted one of my morning runs.
I had barely started jogging when I saw her; she was on Sunset Boulevard in Hollywood, looking lost and tired, trying desperately to find a new human friend. After clinging to another man there for miles (as he explained to me), and passing me in my frightened state, she located an old lady across Fairfax Boulevard. Perhaps she was operating on a wisdom, thinking an older soul would be more likely to help her.
As I was watching the scene unfold, I honestly felt a moral dilemma unfold as well. I had little experience with dogs - and, absolutely none with larger ones. Since dogs feel emotions, I fancied that she would sense my nervousness and react to it. The thoughts started cascading through my mind ... how would I keep her at my house? Would my landlady be cool with it? Wouldn't it maybe just be easier to bury my head in the sand and forget all about it? Despite my fears and lack of experience, I just could not fathom the idea of a neglected animal - so I decided to do what seemed to be the right thing.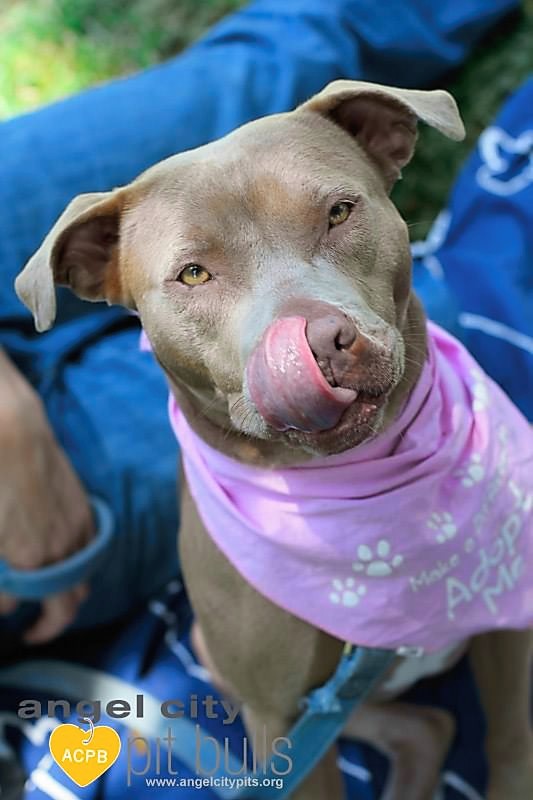 I crossed Fairfax and cautiously walked up to her. Her sweet but worried eyes connected with me immediately, as if she knew she had found help. I was relieved. I called her "Rosie". Because Rosie and I walked for a couple of hours together, we quickly bonded. Even without a leash, she obeyed all my commands. I remember running into people walking their dogs - reading their faces, seeing their concern that Rosie was off leash. I, too, wasn't so sure about how she would react to other four-legged companions. But, everything was fine ... not only was Rosie obedient, but to my greatest surprise, she was also very sweet. On leash, she was great to walk; she did not pull at all.
Rosie cured a lot of my fear of pit bulls and larger dog breeds. Not only did she cure me ... she captured my heart as well. I fell in love with Rosie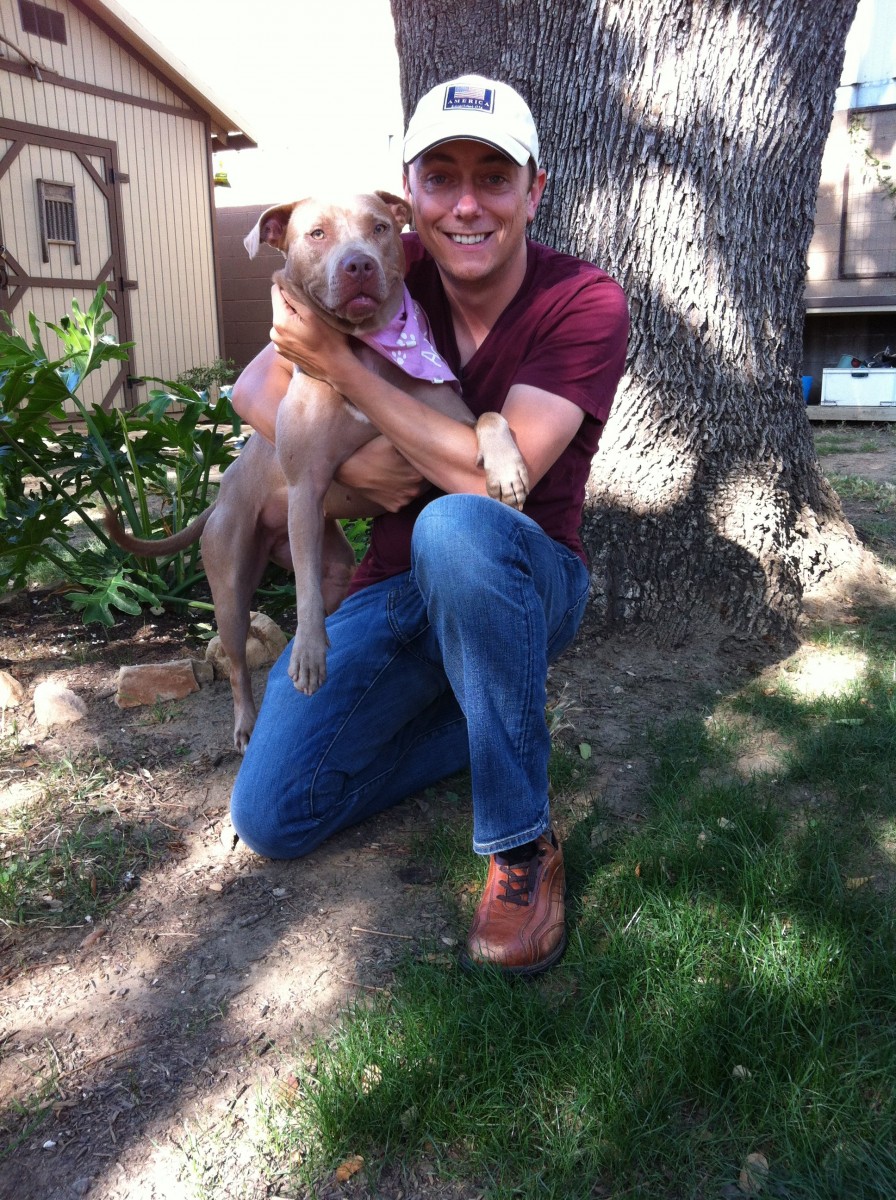 Unfortunately I could not keep her. My landlady refused to host a pit bull on her property, and I couldn't find anybody to foster her that day. I was facing the fact that I would have no other choice but to take her to the local animal shelter. My beloved wife, who was helping me in the process, had the great idea of asking the owner of our doggie daycare, Karen, if she could help. Karen usually does not accept such requests; however, her having a pit bull herself, and hearing about how great Rosie was, she made an exception and offered Rosie a temporary home.
In the mornings, Rosie would hang out with Karen and other people at the coffee shop, eating prosciutto for breakfast. Then she would play with other dogs at daycare. And at night she had Karen, who quickly fell in love with Rosie, too.
The neighbors loved Rosie. The staff at the day care loved Rosie. Everybody loved Rosie. But Rosie had still not found her forever home; that is where Angel City Pit Bulls came in. Karen and I agreed that Rosie becoming an Angel City pit bull would be the best way to ensure she would be adopted into a loving family. Just like everyone else, the folks from Angel City Pit Bulls fell in love with her, too.
For me, I feel cured of my fear. When dropping Rosie off at her new Angel City Pit Bulls' foster home, I met another delightful pit bull - Rosie's new foster home friend - and experienced no fear at all.
I saved Rosie. But in so many ways, Rosie saved me, too.

Olivier
ACPB Volunteer and Rosie's Guardian