You are here
Elderbull Love
Monday, March 26, 2012 - 9:51am
My husband and I knew we wanted to adopt a companion for ourselves and for our thirteen-year-old Elderbull, Samoa. Our other senior pit bull mix passed away about a year prior, and we decided we were finally ready to adopt again. We've had Samoa since she was a very active one-year-old. Now at the age of over thirteen, we were concerned about finding the right dog to match her energy level. We didn't want to stress her out with a dog that might be too energetic. Our thought was to possibly adopt a dog between the ages of two to four years old. We did know that we wanted to adopt a pit bull or pit bull mix.
Around this same time we had the pleasure of meeting Angel City Pit Bulls. They were certain they would find the right pit bull for us to adopt, and we were confident they would too! We expressed some interest in fostering, so we started there. We weren't in any big hurry to adopt, so fostering was a great way to provide a temporary home for a homeless dog while at the same time finding the right match for us.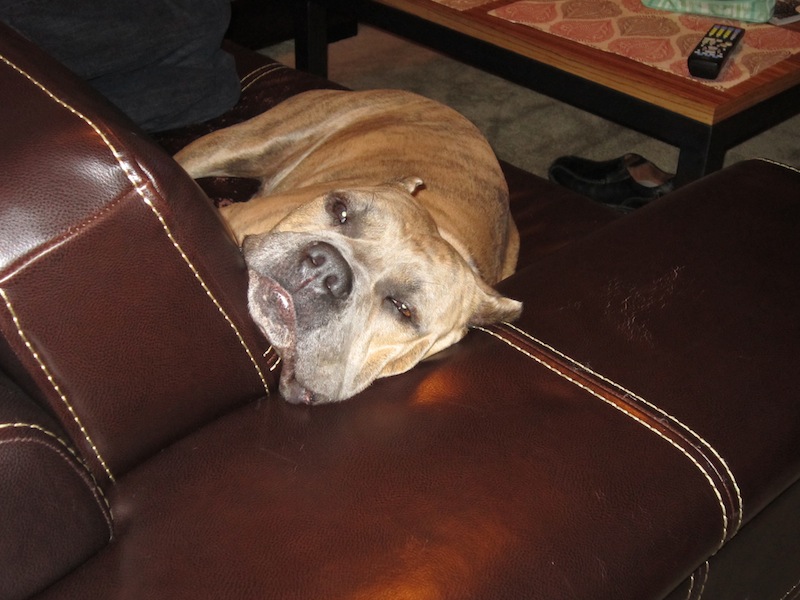 Angel City Pit Bulls told us they would like to pull a seven year old dog named Wilbur from the South Los Angeles Shelter. When they asked if we would be interested in fostering him, we said "sure". I didn't realize that a seven-year-old dog at the shelter is considered a senior; sadly, being labeled a senior greatly reduces a dog's chance of being adopted.
At the time, we thought we were only going to foster Wilbur. For some reason we had this idea stuck in our heads that we were going to adopt a younger dog. Once Wilbur spent some time with us, he and Samoa settled right in together. It wasn't long before potential adopters were starting to show interest in him, and we then realized we would be crazy not to adopt him. And so, he became our foster failure!
I could go on and on about what a big fans we are of Elderbulls. In an effort to keep it somewhat simple, here are just a few of the wonderful benefits from adopting an Elderbull (like Wilbur):
 
Wilbur settled into our household quickly. He was so happy to have a comfy bed of his very own. He not only gets along with our senior gal, to whom he is very respectful, he gets along with all the dogs in our neighborhood. He's easy going and just wants to make the best out of his golden years.
Easy, Easy, Easy. That's another great quality of seniors. They're easy to train. This includes house training. If they're not already house trained, they usually pick it up fast. Wilbur excelled at obedience classes. It turns out you CAN teach an old dog new tricks! Older dogs often have an easier time focusing than pups. They're also usually pretty calm making training a lot easier.
The exercise routine for a senior dog is easy too; prior to adopting Wilbur I envisioned having a dog who would get up early in the morning with me and run several miles before the day began. This scenario would have been disappointing for both the dog and me because it likely wouldn't have happened. On the other hand, Wilbur provides the perfect amount of energy when it comes to exercising - especially if you're a person with a busy work schedule! He is happy going for his daily short stroll as well as the occasional longer hike or beach trail walk. A few miles are his max - and mine too!
Something else to keep in mind is cuddle time - senior dogs make for wonderful cuddle-bugs!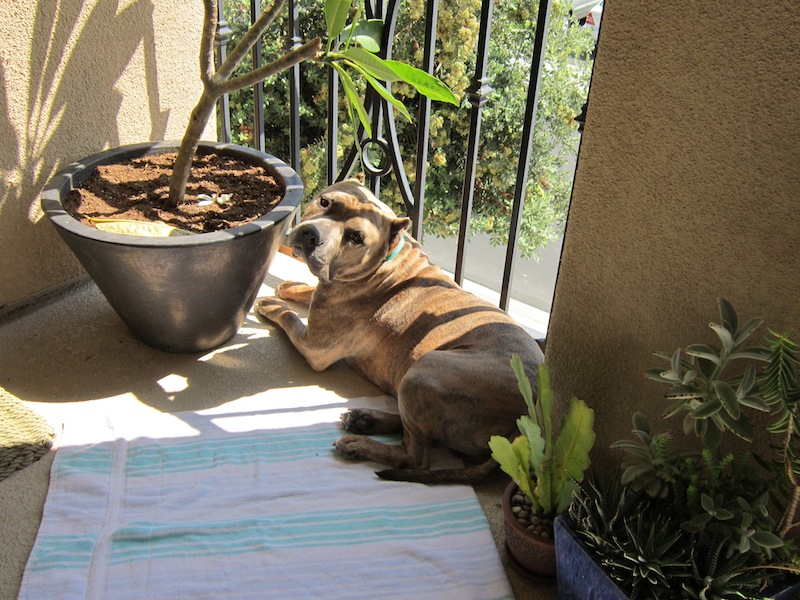 I've had several friends ask me if I'm concerned about the mystery of his past. When you adopt a mature dog, what you see is what you get. The dog's personality is already developed, making it easier to identify their personality characteristics. Wilbur is lovable, loyal, calm, quiet, loves kids and other dogs. He's playful without being obnoxious, and he's gentle. He has an ideal temperament for a therapy dog. In fact, we intend to have Wilbur certified as a therapy dog sometime this year!
I have sometimes heard people express reservations that an adult dog will not be able to bond with them the way that a puppy would. I can assure you that senior dogs - including Elderbulls - are so grateful to be adopted and live their golden years in comfort, that an instant bond often happens almost immediately. When you show a dog the love and care he deserves, you'll feel an emotional return back with every day you spend together. It really is a huge emotional reward for both you and the dog.
When you do adopt a middle aged or senior dog, always be a proud parent and let others know what great companions they make! For our family, will we ever adopt a younger pit bull in the future? Maybe. Will we ever adopt another Elderbull? Definitely!
Sandy
Devoted Volunteer