You are here
DIY: Birthday Celebration Cake Edition
Wednesday, August 1, 2012 - 9:54am
Today is an extra special day for my family and our dogs... today is their birthday! Three years ago I was introduced to a litter of puppies; seven of them moved on to loving happy homes, but two remained. In the last three years I have learned and experienced so much and it's all thanks to my two furry pit bull friends that go by the names Dozer and Theresa.
I thought they deserved a little extra special treat this year for being extra special companions in my life… so I baked them a cake. Here are the steps:
Peanut Butter and Bacon Birthday Cake
Yields one 8-inch cake
Ingredients 
1 cup canola oil
¼ cup creamy peanut butter
4 eggs (organic if preferred)
2 cups wheat flour
1 Banana, sliced
3 slices cooked and chopped bacon
½ chopped carrots 
Cream Cheese Frosting (simple instructions to follow)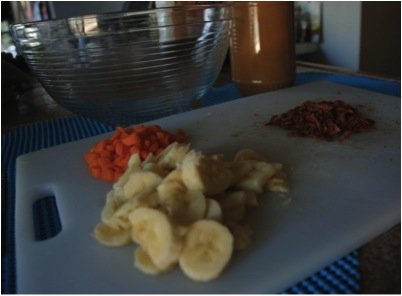 Directions
Preheat oven to 350 degrees F. Grease and lightly flour cake pan.
In a mixing bowl, cream peanut butter and canola oil at a medium speed. Add eggs one at a time, beating and mixing after each addition.
Sift flour and baking soda in separate bowl. Add the sifted ingredients to the oil/egg/peanut butter mixture and beat until combined.
Fold in crumbled bacon, banana and carrots.
Place mixture into cake pan. Bake for 30 minutes. Allow the cake to cool for 10 minutes before removing from pan.
Allow cake to cool completely before frosting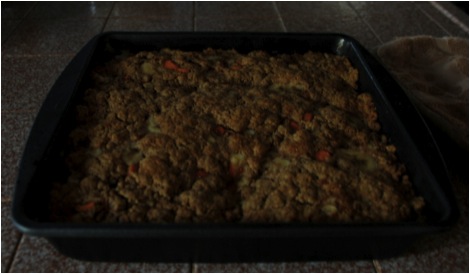 Cream Cheese Frosting – Soften one 8 oz pakage of cream cheese with mixer. Add ¼ cup milk and 2 teaspoons of pure vanilla. Beat mixture until smooth. Refrigerate cake after applying frosting to harden.
And there you have it, a simple peanut butter bacon birthday cake. A few notes: I found cute cookie cutters at the dollar spot at my local Target to make the cake into special heart and doggy bone shapes. You can substitute bananas and carrots for YOUR dog's favorite yummy snacks (apples, blueberries, pineapple cores, etc.) Also, unbleached white flour works very well if your dog does not have a sensitive stomach. I've found that wheat flour is easier for Dozer's sensitive system. White flour makes him itchy…
Happy Birthday to the best pitty companions any girl could ask for, Theresa and Dozer!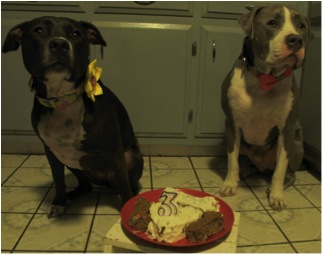 Alyss
Assistant Foster Coordinator