You are here
Dining Out Has Gone To The Dogs!
Wednesday, February 29, 2012 - 9:41am
One small step for man … one giant step for four-legged kind! As of this week, Los Angeles is now allowing our canine companions to join us in outdoor dining venues.
The new rule was announced by Los Angeles City Council on Monday evening, and is effective immediately. For restaurants that have outdoor patio dining, and an outdoor entrance, dogs are allowed to sit with their people – versus before, when they were forced to sit outside of the fenced area.
Thanks to Chris Simms – founder of The Lazy Dog Café, and Los Angeles County Supervisor Don Knabe (featured below), the change in public health rules have been made official. A lot of people who would not have patronized many of these establishments will now be more inclined to visit with their pooch in tow. The decision to allow dogs is still up to the individual restaurants – so, be sure to check first before you take Fluffy or Fido out to dinner with you.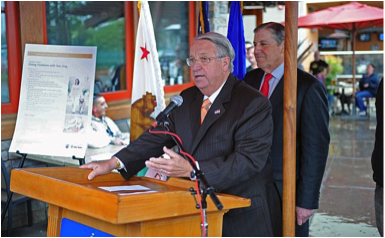 We at Angel City Pit Bulls were already big fans of The Lazy Dog Café – both for their business model that encourages dogs to be included in family activities, but especially for their mascot – a pit bull named Samoa! And Samoa, as coincidence would have it, belongs to one of our devoted volunteers - who just this last year adopted our dear sweet Wilbur to add to her family. Thanks Samoa, for being part of our village as well as Chris Simms' - for your part in making this world not only smaller, but … a whole lot better!

Our pit bull ambassadors now have a lot more places to share their joy with others. So – what are you waiting for? Get your dog, get your leash, your wallet, and … bon appétit! Happy dining!