You are here
Smokey and Moises
Monday, March 11, 2013 - 10:28am
I first saw Smokey when I was scrolling down a Facebook page and a photo caught my attention. My friend and teammate, Moises, had posted a picture of a bluenose pit bull puppy sitting on a skateboard. Wanting to know more about the puppy I sent Moises a message. He responded that the little guy was his and that he had just received him from a friend whose dog had just had puppies.
Concern came first. Here was a young pit bull type dog from a breeder, under the care of a high school student who already had full days packed with school, football and work. This seemed to spell trouble for Smokey. I knew that Moises was a good kid and that he would do his best for the dog, but I had serious doubts about his ability to make the time commitment necessary to raising a young pit bull.
Although Moises' parents accepted having Smokey in the house they decided that Moises had to be the sole care taker since the family already had their hands full with two Chihuahuas and full schedules. If Smokey was going to make it in the family, Moises was going to have to step up and make a huge commitment. To say the least, the odds were stacked against Moises and Smokey. I half expected to find Smokey in the intake kennels at the shelter.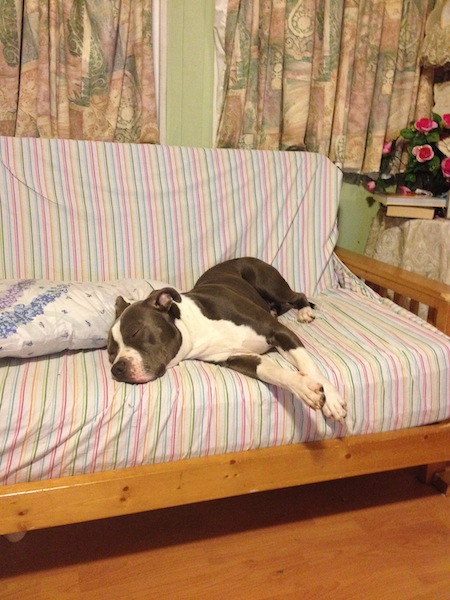 Moises had other plans. With full school days, football and work on the weekends, he always found ways to make time for Smokey. After a full day, he would find a few hours to walk and play with Smokey to burn off energy. He took Smokey to a vet for his shots and when Smokey was old enough he took him to a mobile spay/neuter clinic. He even sought out training. Moises paid every dollar along the way; he saved up money from working at In-N-Out on the weekend so that he could buy everything that Smokey needed.
Having graduated high school, Moises is still making time for Smokey between multiple jobs and classes at a local college (where he is also playing football). I'm not sure I know anyone who has done more for their dog.
In the eyes of most people, Smokey and Moises did not fit the mold for a solid pit bull and human relationship. There are no fancy leashes or harnesses, or flexible time schedules and uncapped budgets for training classes. But Moises has something that matters far more than any other qualities that we normally associate with good pit bull owners: Moises is willing to do anything for Smokey. He cares about Smokey, so he is willing to go to any extent to make sure that he has a great life. It sounds simple, but it makes all the difference. Just ask Smokey.
 
Alistair Thompson
ACPB Volunteer